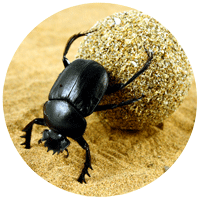 Scarab Jewellery South Africa
The humble dung beetle (scientific name: scarabaeoidea) is Africa's greatest recycler. The Scarab Jewellery Studio brand embodies the growing trend of "up-cycling" the old into the new. This trend of recycling jewellery by breathing new life into tired and overworked fine jewellery design is one of our specialties. Our talented team of designers and artist goldsmiths melt down your precious metal and then rework the stones into new contemporary art pieces – the jewels of the future.

The Scarab Brand
From humble beginnings in a simple jewellery studio in the arty suburb of Observatory, Cape Town, Scarab Jewellery South Africa has steadily grown to boast a professional on-site workshop and design studios in Cape Town. Our recipe for success is the care and attention we give to our clients, and to each piece of jewellery we create. Jewellery is about emotion. It can be a gift of love, an object of desire, an heirloom to be passed down to future generations. It's an expression of self. We delight in creating exquisite pieces that our clients will fall in love with.