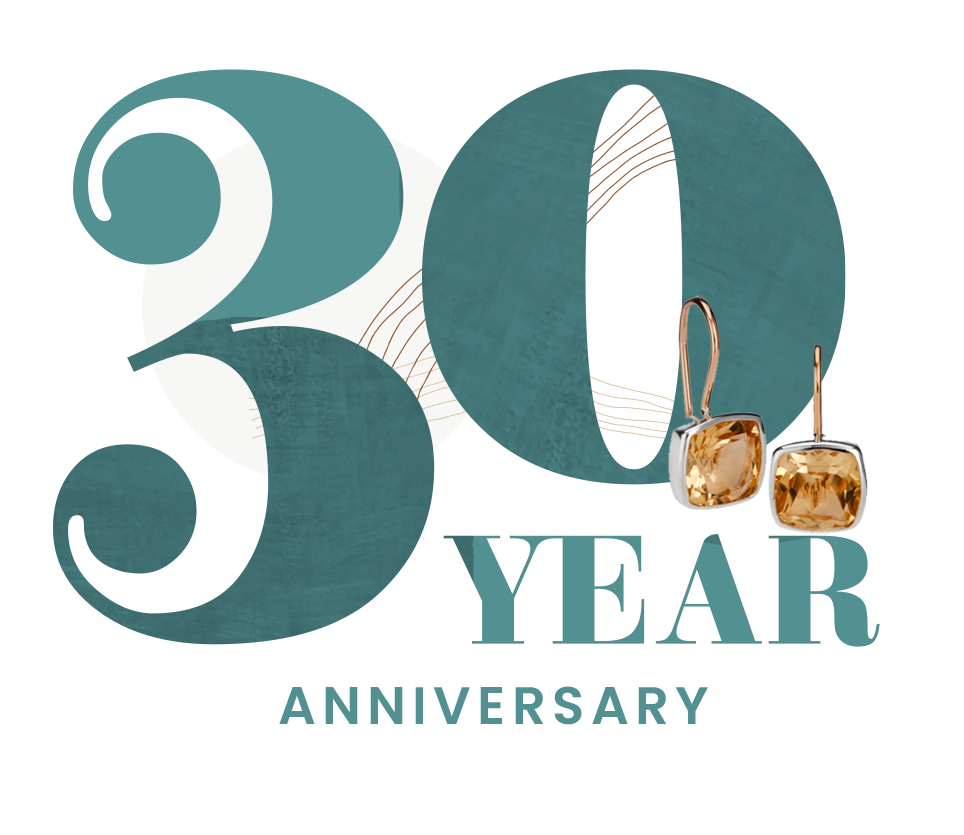 In celebration of our 30 year anniversary, we've invited our valued customers to share their memories of their Scarab journey!
We'll be adding a new story daily so be sure to come back and visit again.
Entering the next era of Scarab – our fourth decade of designing bespoke pieces for our wonderful clients.
Janine I bought this very beautiful moonstone necklace from you for my dear wife, Philien, during 2000 after she had completed a process of  challenging surgical procedures and medical treatment. It was a celebration of the end of her last chemo. The moonstone represented hope [...]
I  clearly remember  the day about   30 years ago that I stumbled across Scarab  (and Janine) in her studio / shop in Observatory- it was one  of those rare times in my life so far  that I entered a retail  space and  absolutely  loved [...]
Congratulations on your anniversary — what a wonderful business you have created! I recently had a FB memory come up that might work for you. Here is the pic and the story. If it won't work, let me know and I'll find something else. I [...]
I have only ever bought jewellery for the special people in my life from Janine at Scarab. Many times I have acquired one of Janine's personal designs which are always so unique but what I love the most about Scarab is their ability to create [...]
I first met Janine in 1996 in the wonderful Scarab house in Obs. It was like walking into a treasure trove with those beautiful display cabinets made from old picture frames filled with gorgeous jewellery. My husband says looking at her jewellery is like toffees [...]
An early purchase of mine from Scarab was a Mandarin garnet set in gold with a silver band. It was a work of art, the colours complimenting each other, eye catching on Joanna's slender olive fingers. A treasured 21st gift. It was a heart sore [...]
Every Scarab piece tells a story, but I chose these bracelets as they hold the most sentimental value. Dear Janine, in redesigning pieces of jewellery, you and the Scarab team have forever linked some of the most important people and events in my life.  These are [...]
It was way back in 1995 that I received my first Scarab gift for my 50 th birthday. Quite the most stunning bespoke piece of jewellery you could ever imagine – a silver book mark inlaid with beautiful pink garnets. Being an avid reader, this [...]
My first visit to Scarab was the quaint little shop in Obs. Janine designed this exquisite dragon bracelet for my daughter Lauren's 21 st birthday. Over time I have collected so many beautiful pieces - often after hinting to my darling 'hubcap' for special occasions. My [...]
I'd known Janine a few years, we were connected by our love of jewellery, when I asked her to rework this piece. I'm a magpie and collect all sorts of pieces, some because I want to wear them and others because I see the beauty [...]
I think I first 'bumped' into Scarab in 1994 when they were in a small shop in Observatory.  When I walked past I always took some time looking at the jewellery…. At this stage of my life I really didn't have extra money for jewellery [...]
I was very privileged to work in the office of Archbishop Desmond Tutu. Whenever he returned from a trip he would bring presents for all the members of his staff - woolen gloves, scarves, chocolates - and after one trip to the east he returned [...]